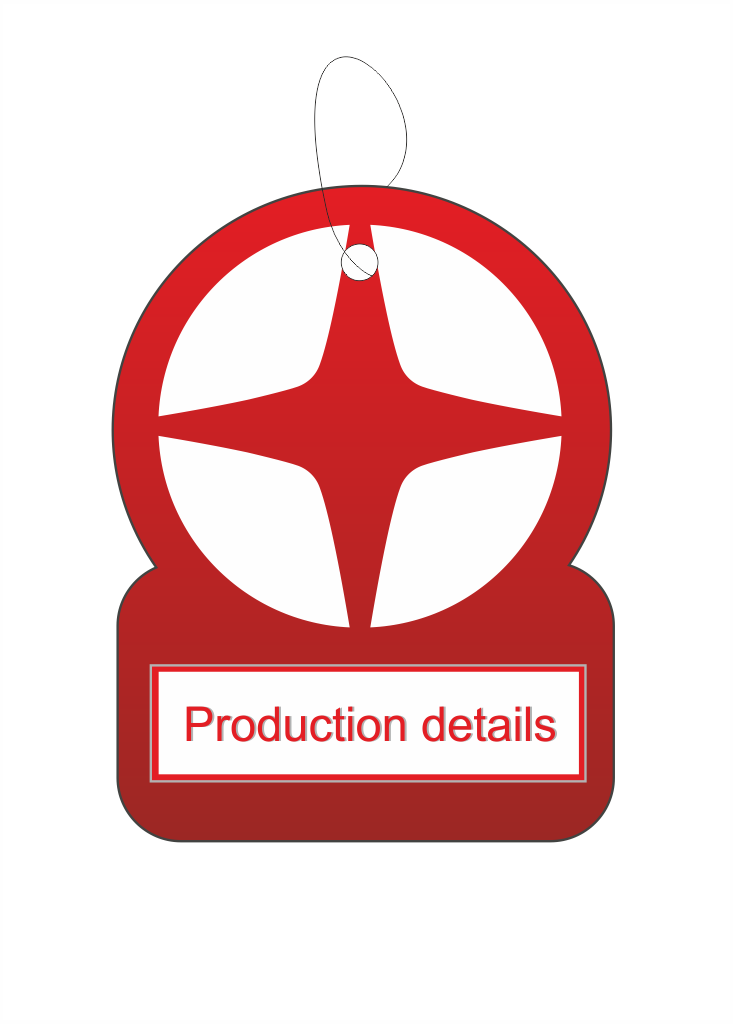 PRODUCTION AND PAYMENTS DETAILS
MATERIAL – Air Freshener Blotter Paper # 80 pt – # 85 pt (1.4 mm – 1.7 mm)
PACKAGING – Clear poly pouch (double air barrier) with elastic string attached.
NOTE – Instruction printed on a poly bag – optional (extra charge). Additional charge and restriction will apply.
FRAGRANCES – Wide range of fragrances (click here to see). There is a possibility to order oil for special customer request.
PRODUCTION TIME – Depending on the size of the order – 14-18 business days from the moment of receiving (fax) signed paper proof of artwork with colour separation and layout in exact position.
Overruns and underruns: We reserve the right to ship and bill up to 2% – 5% over or under quantity ordered. These will be shipped and billed accordingly.
RUSH ORDERS – Depending on the size of the order 7 – 10 business days or sooner.
Available for spot colour only. Additional charge and restriction will apply.
STANDARD BOX SIZE & WEIGHTS
1201 – 2 000 Units = 59 x 48 x 21 cm = Weight 25 – 35 kg
801-1 200 Units = 45 x 37 x 26 cm = Weight 15 – 24 kg
500 – 800 Units = 30 x 29 x 24 cm = Weight 9 – 11 kg
SHIPPING LOCATIONS – EU Customers: FOB Szczecin, 70-807 POLAND
SHIPPING METHODE – as a standard, we ship the order via DHL Standard (EU delivery 2-5 days) and add the cost to the total amount. At the client's request, we can send the order by air transport (EU delivery 1-2 days) with additional payment.
TERMS OF PAYMENT – After sending back the signed paper proof, the order goes into production schedule. Within a few days, the customer receives a pro form invoice.
PAYMENT METHODS – The payment should be made to the bank account specified on the proforma invoice. After that customer should sent us bank transfer confirmation to our email info@scentofeurope.com.
The original, final invoice will be sent with the product and to to the address provided on paper proof